FAQ
Important information for laser cleaning
Introduction
We are often asked for information regarding starting a laser cleaning business. This document can answer most of the frequently asked questions and is a source of information for anyone who is thinking about starting a business with our laser cleaning machines. Laser cleaning is a new technology with great both commercial and industrial utilization, therefore with a big potential customer base too.
About Narran company
Narran is a team of motivated people having fun with laser technology. We have 3 people with a degree in nuclear physics focused on lasers, electrical engineers, mathematicians and physicists. This solid foundation is signed especially under the development of cleaning lasers – design, implementation, continuous improvement, but other laser projects as well (construction of single-purpose machines, robotic applications, automation and finding solutions for our customers).
How does laser cleaning work
Laser cleaning uses concentrated laser radiation to evaporate impurities from the surface. The impurities are affected by ultra-short laser pulses (μs-ms), which generate heat and heat-induced pressure – the high temperature inside the material creates a high pressure that causes it to evaporate. Laser cleaning is therefore very gentle on the substrate. Almost no waste material is generated during laser cleaning, because most of the impurities evaporate, thanks to the high efficiency of the laser resonators used, the cleaning process has very low operating costs. Laser cleaning is a non-contact, non-abrasive method that is very gentle on the surface of the material. Since the course of the interaction of laser radiation with the material depends on the material, it is possible to set the cleaning parameters so that the substrate remains undamaged after cleaning.
Advantages of laser cleaning:
It does not damage the underlying material.
It has the lowest operating costs of all the industrial cleaning methods (less than 1EUR/hr).

Easy operation and intuitive user interface.

Eco-friendly – no use of any added material or chemicals.
Quick return of your investment.
Speed and efficiency.

Fast implementation.

Products little to no additional waste.
Our lasers clean and remove
Fats, separators, rust, oxidation, paint, ink, oil,
dried polyurethane, foam, lacquers, adhesives, natural and synthetic rubbers, grease, ink,…
Where can you use laser cleaning:
Our lasers have a very wide range of uses:
Deoxidization/rust removal
The most well-known attribute of laser cleaning. Rust can be removed from anything from metal nuts to large industrial machines.
Coating removal
Laser cleaning is one of the best preparation processes before any welding, soldering, gluing, or the new application process.
Degreasing
A common method used in the process and production industry. Efficient for removing dirt, moisture or any other contaminant.
Restoration
Laser cleaning is especially effective in restoring worn-out stone or, exceptionally, wooden objects, but it is recommended to find out in advance whether the cleaning cannot cause side effects for the material.
Individual parts cleaning
It is not always necessary to clean the whole object if it only has a few worn out parts.
FAQ
What kind of laser do I need to start cleaning?
Lasers with power from 50 to 1000W are capable of the same cleaning results but they differ greatly in the time it takes them. It is therefore recommended to choose laser by the size of the surface being cleaned, you can see approximate values in the chart below.
Lasers can be divided into three categories by their power:
Low power (50W – 100W)
Medium power (200W-500W)
High power (1000W)
| | | | | | | |
| --- | --- | --- | --- | --- | --- | --- |
| Cleaning speed | 50W | 100W | 200W | 300W | 500W | 1000W |
| M2/hour/mm of the surface layer | 0,54 | 1,14 | 2.22 | 3,36 | 5,58 | 11,16 |
How much does laser operation, cleaning hour, etc cost?
Our lasers are very efficient and therefore environmentally friendly machines (possibility of obtaining ISO 14020 and ISO 14024). You do not need any additional materials for the cleaning process (abrasives for blasting, gases, dry ice pellets…), the efficiency of laser resonators is up to 50% and so the electricity consumption is up to 3000W / hour. Therefore, we usually state that the cost per hour of cleaning should not exceed 1EUR/hour (wear of optics, electricity, preventive service).
How is it possible that the laser removes dirt and does not damage the substrate?
Properly selected and set laser, both hardware and software-wise, is absorbed in the dirt (rust, oil, paint, grease, adhesives, separators) where the laser ablation occurs, i.e. removal of impurities, but does not have enough energy to damage the substrate (steel, stainless steel, aluminum, metals, copper, stone, sandstone, granite, marble…), therefore it is especially suitable for cleaning molds, tools, car parts, machines and also restoration in general.
How do you operate a laser?
The laser is controlled by a large clear touch screen. The user can easily select, save and name individual tasks and parameters for easy repeat cleaning. It is now also possible to adjust the main functions via the ergonomic process head even during the cleaning itself. The system also allows various options of login and rights for increased security and process repeatability.
Is laser cleaning safe?
ROD series mobile cleaning lasers fall into category IV, so it is necessary to follow certain rules for safe use. Our lasers usually have a wavelength of 1064-1070nm, this is an area of infrared radiation, i. e. invisible to the human eye. Therefore, it is necessary to wear special goggles in the first place. Other rules are specified according to EN 60825-1 which we will of course guide you through and train accordingly.


Safety glasses
We supply the highest quality laser safety glasses currently on the market. All of the variants we offer do have CE certification.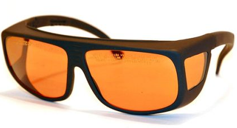 Portable security barriers
These barriers are designed to increase safety when maintaining laser equipment.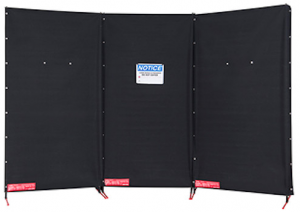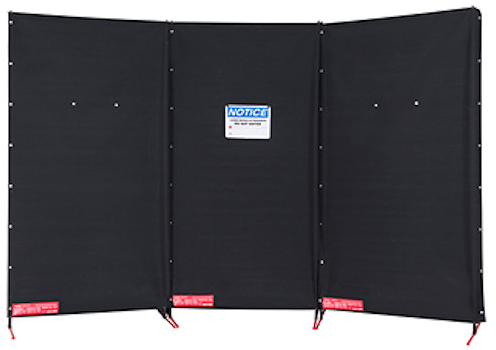 Protects against laser radiation and meets the following certifications and standards: ANSI, CE and NFPA-701
Will laser price go lower in the future?
We do not expect the price of laser systems to fall. The knowledge needed to manufacture components and systems is highly specialized and there is no room for any significant price jumps.
How long service life does a laser have?
The life service of a resonator, which is the source of a laser is more than 15 000 hours of use.
How does the service work?
ROD cleaning machines are designed to be virtually maintenance-free; an average user takes care of keeping the optical parts of the laser clean and adding clean water to the cooling. Preventive service is not required by Narran on these machines and the laser can be used for nonstop operation.
Can I see and try the laser before purchase?
Of course, you just need to make an appointment at our headquarters in Prague 9. You can find the address and contacts at: https://laserforcleaning.com/#kontakt
"I have found a machine cheaper from your competitors, especially China…Why is that? " 
When two do the same thing, it isn't necessarily the same thing, laser is not a cheap matter, so you should make sure to compare two same machines before purchasing a new device, same or similar components and of course – the same services(warranty, service, service life of the resonators – their manufacturer, technological experience and ergonomic properties). You should pay a visit to the distributor, try the machine yourself and test it. If it is your first-time laser experience, we would be more than happy to make a free comparison for You.
How much does a laser cleaner cost?
Our laser cleaner price range begins at 26 000EUR for 50W cleaner up to 170 000EUR for 500W cleaner.
How long is the hose, cable, fiber or how is it called?
That depends on the system, for lower outputs such as 50, 200 and 300W the limit is 10m, usually 10m for 500W it is possible to build a system with up to 50m fiber.
How wide is the laser beam?
The beam itself is a small point, which is further worked with the use of mirrors, therefore it can be scattered into any shape (lines, circles, rectangles, ellipses, etc.). The width of the shot, therefore, depends on the size we set, then on the optics used, due to the smooth manual move during the cleaning process we usually choose a width of 8cm. It is usually possible to choose between approximately 1-10cm, for special applications up to approximately 30cm.
How does the service work?
ROD cleaning machines are designed to be virtually maintenance-free; an average user takes care of keeping the optical parts of the laser clean and adding clean water to the cooling. Preventive service is not required by Narran on these machines and the laser can be used for nonstop operation.
What will happen if a laser beam runs over my hand?
Of course, it depends how it happens, what setting are you using,.., If you hit within the focusing distance, you will burn your hand, if your hand happen to be out of the focusing distance, you will only feel the heat. The laser is partially reflected, partially absorbed in the material, it can also pass through the material.
Can a laser remove rust?
Cleaning rust with a laser is one of the most, if not the most efficient and effective methods of removing rust. Rust, varnish, oil and other contaminants will not resist laser cleaning methods.
What is HS CODE for ordering a laser?
HS code for lasers is 90132000 – Lasers, laser, diodes. Lasers (excl. laser diodes)